One of the first questions we tend to ask our brides are "What are your colors?".  This sets the tone for the style and vision they are looking to achieve. Now a days the wedding color palettes are endless! However there are a few we tend to see more common than others. In case you missed David Tutera's article on color palettes found on BridalGuide.com here is a little recap on a few of the 7 Hot Wedding color palettes!
1. Blues
Blues are soothing, calming and a perfect fit for  "something blue". Blue hues pair perfectly with white & silver, or even a pewter.
If you're not too into the cooling colors you may consider something a bit warmer and rather bold such as
2. Red, Orange, & Pink
These tones are fun, bright and set the tone perfectly for a festive night!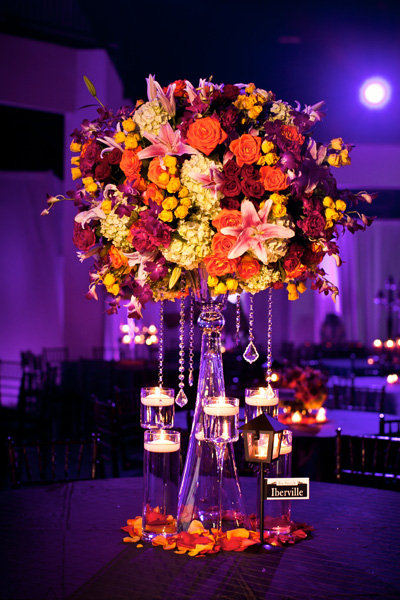 Remember you want to try and limit the number of colors you usually use to no more than 3.
You want to avoid your wedding color palette becoming too busy & juvenile like.
Maybe these all are a bit too out there for your taste, if so you can always go with the a classic & an elegant palette of …
3. Neutrals.
White, ivory, and a touch of gold, pewter, or silver. Rather refined and very traditional.
These are just a few color palettes, to see more options check out the full article by the man himself! Also note that the 2014 color of the year is said to be radiant Orchid!  We expect to see tons of pretty in purple weddings each with their own personalized touch from the couples.
Happy Planning!